Bare-Metal Hydrogel® N: Body Molds, Skin Safe Mold Material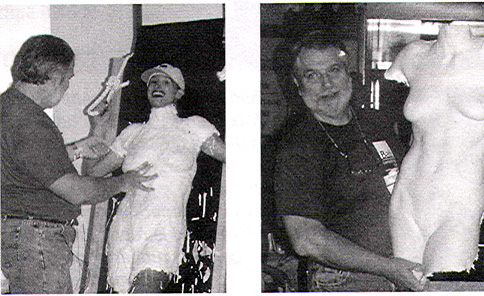 Hiram Ball, of Ball Consulting Ltd., demonstrates making a live-body mold using Hydrogel® N. The safe-for-skin-contact alginate yields excellent impressions if wax or plaster is cast right after demolding.
Hydrogel® N is most commonly used for making molds of the human body. This is because alginate is considered safe for contact with the skin. This product is also safe on surfaces that are not damaged by water such as fossil molds. Hydrogel® N is a dry white powder which when mixed with water at a 3 parts water to 1 part Hydrogel® N weight ratio (approximately 1 water to 1 1/4 Hydrogel® N by volume) yields a creamy mix with a 5 minute working time. Working time may be extended using the optional liquid retarder described below. Demolding can be done, with care, several minutes after mix can no longer be worked.
BENEFITS AND FEATURES:
169 HYDROGEL N ALGINATE 1 QUART

169 HYDROGEL N ALGINATE .5 POUND
---
170 HYDROGEL N ALGINATE 1 GALLON

170 HYDROGEL N ALGINATE 2.5 POUND
---
171 HYDROGEL N ALGINATE 5 GALLON

171 HYDROGEL N ALGINATE 12.5 POUND
---
172 HYDROGEL N RETARDER 1 QUART

172 HYDROGEL N RETARDER 2 POUND
---